Last week I was sick and spent a lot of time at home watching Christmas specials on my laptop.
Here are some of my favourite TV Christmas specials (that I watched last week and in general)
1.
I really like all of The Office's Christmas episodes but my favourite has got to be Season 2's "Christmas Party."
but I am going to give honorable mentions to the openings from Season 3's "A Benihana Christmas"
and Season 7's "Classy Christmas"
2.
My So-Called Life's "So-Called Angels"
A beautiful and emotional Christmas episode and yet it also fits really well into the arc of the series.
3.
Community's "Abed's Uncontrollable Christmas"
Clever and hilarious. I also really liked last season's "Regional Holiday Music".
This show is good at being a show.
4.
Gossip Girl's Season 1 Christmas episode, "Roman Holiday".
This was when the show was in its prime.
I love Dan and Serena in this episode and their storyline about finding each other gifts.
I love the Rufus and Lily drama.
I love Blair and her story with her dad.
It's a great episode. A+
5.
Boy Meets World - Season 6's "Santa's Little Helpers" (not to be confused with Season 1's "Santa's Little Helper.")
The scene where Eric is praying on the bench...love it.
6.
Hey Arnold - "Arnold's Christmas"
I rewatched this last year for the first time since I was a kid and realized how deep and intense this episode was for a kid's show. It still holds up.
7.
and while we're on the subject of kids' shows..
Adventure Time's "Holly Jolly Secrets"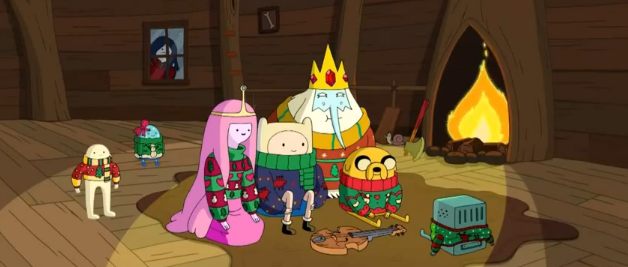 It's the Ice King's origin story, and also a cute Christmas episode.
What are some of your favourite TV Christmas specials?