This week is a total turn-around from last week.
The long weekend was awesome, and this week I found that I am settled into a routine, my friends have all gone back to school, I am LOVING my internship, everything about it - the people I am working with, what I am doing, everything. It's going to be great. I am having a really good week. This week's blog is just going to be a collection of
stuff
that I want to share with you. Things that are making my week awesome. Check it out.
1. This video. Watch it, it will make your day.
2. This song/album.
I love this song, it is so perfect for me right now, and probably most people at this time. It's the beginning of September. The start of a new school year, a new season, a fresh start.
The whole album is fantastic. Buy it
here
.
3. This book/project.
"Dear Mr. Potter is a blog-based charity project that focuses on J.K. Rowling's life-changing Harry Potter series, and how it has impacted, inspired, and affected its fans...The best of these submissions are featured in a 100% non-profit professional book, with the proceeds going entirely towards furthering youth literacy through the Harry Potter Alliance."
I am reading the book right now and it's really cool.
4. Good food.
I've been trying to eat really healthy and deliciously lately. Some things I've had to eat this week:
- whole wheat bagel with tuna and spinach.
- honey nut cheerios with blueberries and milk.
- chickpeas, tomatoes, cucumbers, and rice.
- banana chocolate chip muffins.
And I've been at a conference for the past two days with a buffet lunch and it has been really good.
Tonight I am probably going to make a black bean avocado salad.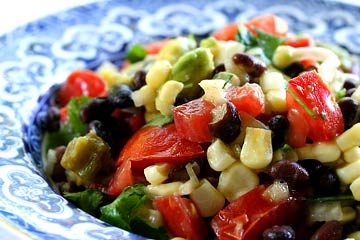 Yum.
(images from Google)

5. down time.
I haven't been too busy this week, but I feel I've gotten a lot done. I worked out with a friend, had a Skype date with my sister, did laundry, played guitar, finished season 6 of How I Met Your Mother, had a work thing last night, and tonight I plan on cleaning my fish tank and watching Country Strong.
It's been a nice relaxing week with lots of me-time, so that has been awesome.
How are all of your weeks going?
Books Read So Far in 2011: 31. According to my phone, we are on week 36 of the year so I am only 5 books behind.
Currently Reading: Dear Mr. Potter. And I will probably re-read Hamlet this week or this weekend, and read Night for school. So that'll bring my total up a bit.